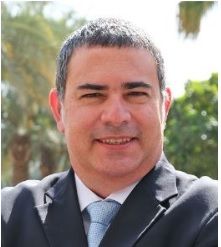 Gamal El Fakih Rodriguez
Vice President of Operations (Luxury) | Caribbean and Latin America
,
Marriott International
Born and raised in Merida-Venezuela, Gamal joined Marriott International in 2015 at the iconic Ritz-Carlton Riyadh-Saudi Arabia as Executive Assistant Manager before promoting to an above property role in August 2018 at the regional office in Doha-Qatar, where he overlooked a portfolio of 50 hotels in Qatar, Turkey, Jordan, Oman, Kuwait and Lebanon.
After actively spearheading the opening of over 25 hotels in different continents, elevating the luxury experience across his portfolio of hotels and orchestrating operations at large, worldwide renowned summits and events such as FIFA 2022, Gamal transferred to the Caribbean and Latin America region as Vice President of Operations for Marriott's luxury brands. Prior to joining Marriott, Gamal lived and worked in 11 different countries including Venezuela, France, Netherlands, Canada, Trinidad & Tobago, Antigua and Barbuda, Puerto Rico, USA, Switzerland, Saudi Arabia and Qatar, gaining experience with some of the leading luxury hotel companies in the world. While his background is mainly within the food and beverage discipline, his passion for training and development also took him to gain two professional stints in the academic world at the Institute of Tourism and Hospitality of Quebec in Montreal-Canada and Les Roches International School of Hotel management in Switzerland, where he led the practical training program for these two leading hotel schools of the world.
An alumnus from the Hotel School of Venezuela, Gamal obtained his bachelor's degree in hospitality management on 1992 followed by a master's degree from the University of Angers (France) and post-graduate studies at The Hague Hotel School (Netherlands) and Cornell University (USA). He is also an award-winning author with his book "The Forgotten Recipes from Venezuelan Andes", winner on the 2011's edition of the Gourmand Awards for Best Cookbooks in the World in Paris. He also contributed with a chapter on craft-based learning in the book "Education strategies for the next generation leaders in hospitality management" published by IGI Global in 2015.