Thanks so much to the Florida Restaurant & Lodging Show Sponsor, Partners & Industry Supporters!
THE FLORIDA RESTAURANT & LODGING SHOW IS SPONSORED BY: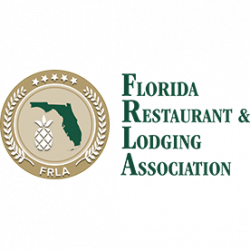 The Florida Restaurant and Lodging Association (FRLA) is Florida's premier non-profit hospitality industry trade association. Founded in 1946 as the Florida Restaurant Association, FRLA merged with the Florida Hotel and Motel Association in 2006. FRLA's more than 10,000 members include independent hoteliers and restaurateurs, household name franchises, theme parks and suppliers. The association's mission is to protect, educate and promote Florida's $111.7 billion hospitality industry which represents 1.5 million employees. Dedicated to safeguarding the needs of the membership, FRLA provides legislative advocacy to ensure the voices of its members are heard and their interests are protected. The association offers regulatory compliance and food safety training through SafeStaff® and FRLA's subsidiary, RCS Training. The FRLA Educational Foundation provides industry-developed, career-building high school programs throughout the state.
Learn more by visiting them at http://www.frla.org

Today's Restaurant delivers restaurant news, data and analysis on menu, marketing, operations and trends to foodservice leaders. Visit them at: http://trnusa.com


From exclusive interviews to the latest news on products, trends, associations, and events – Total Food Service covers all aspects of the national food service industry. Whether it's our monthly print or digital issues, to our website and social media channels (below), we deliver a package of must-read news and information to build and enrich your business. Visit them at www.totalfood.com

Catering, Foodservice & Events Magazine remains the leading business-to-business trade communicator for catering, foodservice and event professionals. Visit them at www.cfe-news.com.